A constant binging of food with my best friend. Spring break, y'all! March was nearing its end and Eela came as my final touch o' home, flying up for a few days just because. We spent her trip eating our weight in only de best, venturing more reminiscent parts of Portland and watching an unnecessary amount of 90s chick flicks. I think our only concrete eatery before she arrived was Slappy Cakes, the ultimate breakfast spot that I'd been dreaming of too vividly since I last went to it a couple years back. I had been craving it since my more permanent return here and we went all out like we did the first time we ever encountered such a get-up. Slappy Cakes is a joint with griddles at every table so you can make your own pancakes, its all you need to hear to be swayed, I know the reaction well. Even if you don't really like pancakes as much, how can you turn down the opportunity to mess around with a griddle and make creatures just for fun? Or maybe that's just the kid in me, I love an excuse to doodle with food or on food, this is the perfect medium to do it. If you aint comforted by the sound of pancakes, they have a mad breakfast spread of dishes to choose from and classy morning drank, so don't get discouraged. And of course when we go, it's never just about the pancakes, consider them an appetizer for the main dealio. They have an array of batters and toppings for your cake-age, as they come in squirt dispensers, playful n' cute. The restaurant itself is lit brightly as you're surrounded by wooden booths and long table tops, with orange light fixtures overhead and the best music selection tuning in and out of your ears, gatherin' up classics from New Order and the Church. Not to mention the capacity, always swarmin' with people of all ages, as it's great for any group, you go there knowing it's likely there's an hour wait and you stay because it's worth it.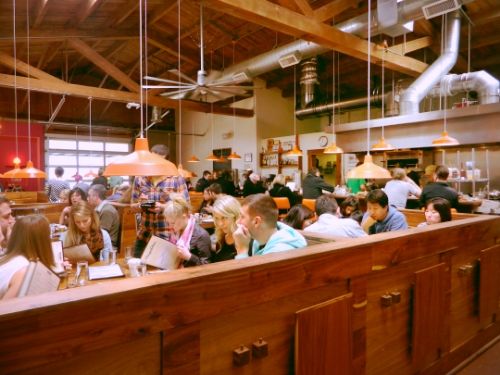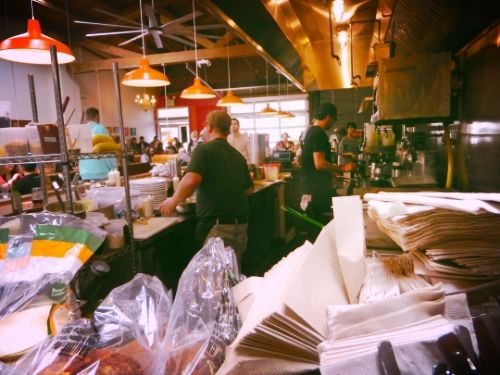 We went for the vegan batter and blueberries, as Eela prefers the non-dairy finds and I'll try anything new. At first the batter tasted reminiscent of the mini pancakes my mom would make me in the mornings before school, this distinctive childhood sweetness I can't otherwise explain. But sadly, after a while, they lingered with a weird aftertaste, almost like cleaning product or something. I suggest trying another batter, as they're usually spot on and sometimes with cool flavors like spinach or sweet potato. The lingering batter didn't spoil our fun, as Eela massacred every pancake she tried to make and I poked fun. But it's why we're best friends…I do the cooking, she does the eating.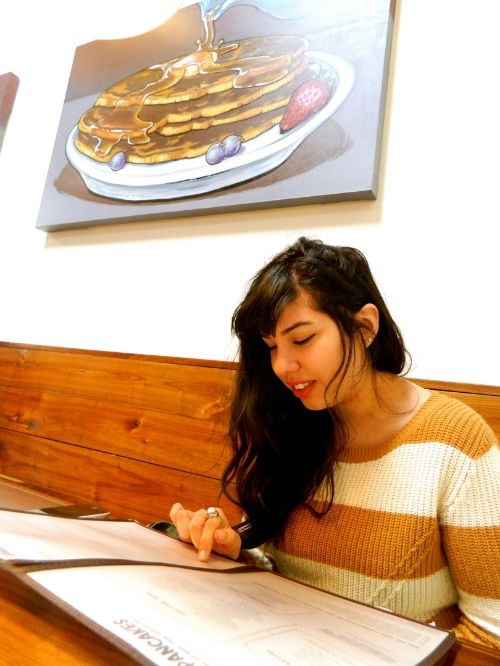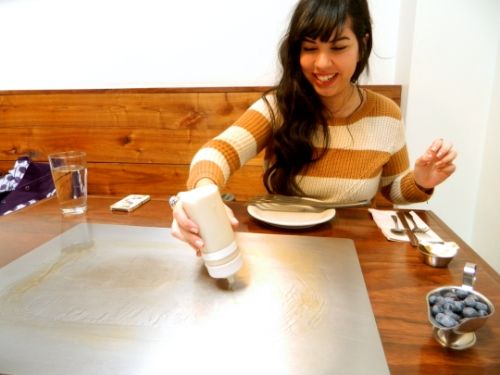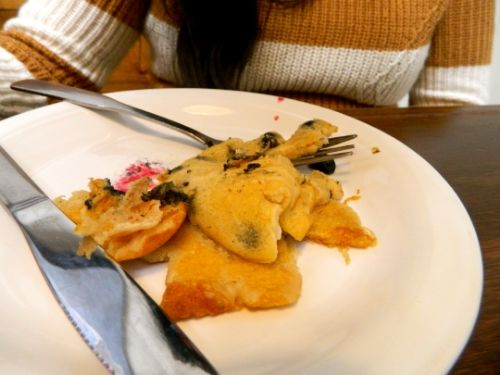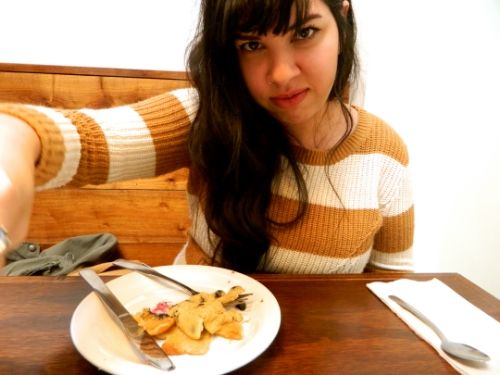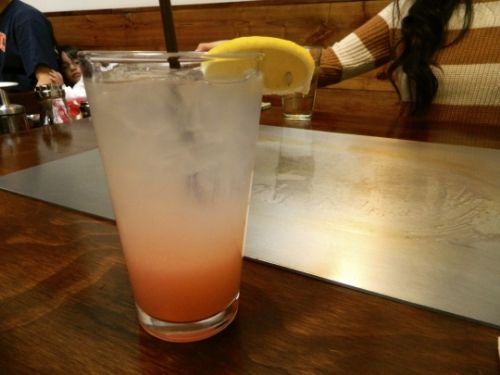 I also got some high class juice, a rhubarb lemonade that was pleasantly tart, straying from the too sweet that I typically luck out on when I try to get somethin' new. For main plates, I went for the huevos rancheros and Eela had the Migas dish, a scramble with tortilla strips, roasted peppers and onions. This huevos rancheros dish has been my basis for comparison any other time I've had the dish since, at whatever restaurant because I dug it THAT much. Reuniting with this baby was indeed sweet, the flavors coming back to me and my mouth feelin' all kinds of stoked. I don't know if my tolerance for spice has changed but it could have packed some more heat. The sauce woven in with the pinto beans though…oof. Crazy good as it swamped up the entirety of my plate.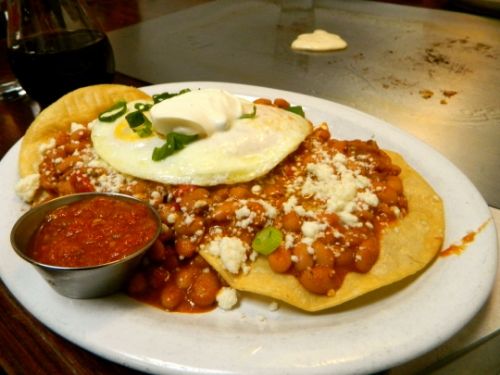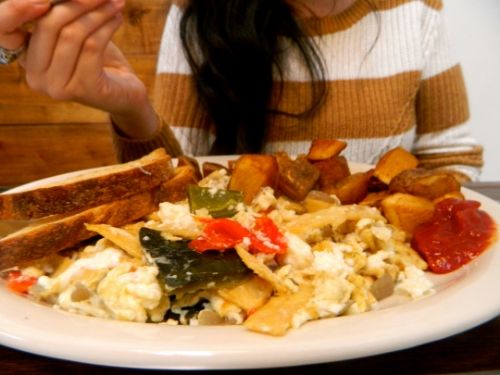 I think my favorite part about this whole breakfast was at first realizing how close Slappy Cakes is to my home. Eela and I both experienced completely different spectrums of Portland as she lived on the PSU campus and myself living in the innards of SE. We remembered what a journey it was just to get to slappy cakes two years back, as we were on foot, finding the right bus to switch on and off from, I think it was over an hour process. The neighborhoods of SE were so foreign to us, we thought it was such a cute area but so different from the hustles of downtown and it's now become my haps, my place of being. I love that as we've visited each other in different lapses of our lives, we've seen this city in completely different lights, both brightly, happily found.